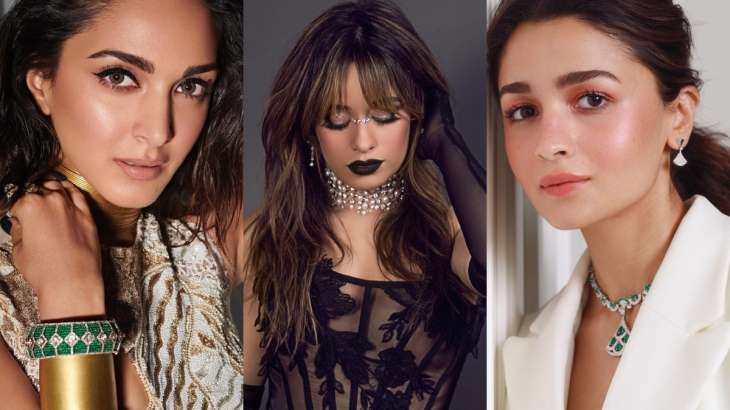 5 makeup trends of 2023: This is going to be an exciting year when it comes to makeup, and the upcoming trends reflect that. From bold and dramatic eyes to striking lip looks and unique facial embellishments, there's plenty to explore. In this article, we'll dive into some of the most popular makeup trends of 2023 and how celebrities are incorporating them into their own looks. Whether you're looking to add a twist to your daily routine or make a statement for an event, these trends are sure to inspire you.
Sharper Cat-Eye wing
One of the biggest trends in 2023 is the longer, sharper cat's eye wing. This classic look is taken to new heights with more dramatic wings that extend well past the outer corners of the eyes. To achieve this look, use liquid eyeliner with a fine tip to create a clean, precise line, then sweep the wing outward and upward. Give it to Malaika Arora who is known for creating sharp edges with her eyeliner.
Y2K is here to stay
It should be noted that this was a particularly popular trend in the late 1990s and early 2000s, but you can still see some influences of it in current makeup trends. Take notes on Dua Lipa's Y2K makeup style. The futuristic makeup trend comes in a soft and playful palette. With a wide array of pastel and metallic hues, this trend is perfect even for the holiday season.
More blush
Blush is making a comeback in 2023 as it has become a staple of many makeup routines. The blush emphasis is not only limited to adding a splash of color to the cheeks, but is also used as a tool to bring warmth and life to the face. For example, Alia Bhatt's pink makeup. You'll see many experimenting with different shades and techniques to achieve a natural complexion, from powder blush to cream blush.
Futuristic metallics
Futuristic metallics are another trend set to be big in 2023. This look is all about using metallic shades and shiny finishes to create an ultra-shiny, otherworldly aesthetic. From silver and gold to shades of chrome and iridescent, the possibilities are endless. You can easily achieve this look by applying metallic eye shadows or highlighters on your eyelids, cheekbones or lips.
Eyelashes
Finally, lashes are going to be a key trend in 2023. This can include everything from dramatic and bold false lashes to OTT mascara that volumizes and accentuates lashes. Eyelashes have been a constant trend and they will continue to be one because they can add an extra touch to any look. Just like Kiara Advani, even you get that lash lift with volumizing mascara. It's easy and you'll get your dream lashes, stat!
Read more lifestyle news